Westmark Credit Union - Pocatello Branch Located in Pocatello, ID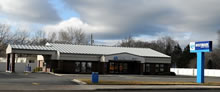 Thanks to our centrally located branch in downtown Pocatello, Westmark Credit Union is accessible to Pocatello residents and business owners, as well as being easily accessible from the nearby communities of Chubbuck and Inkom. Come in today to learn more about our personal savings accounts, convenient checking accounts, and more.
Westmark Pocatello Branch Address and Directions
Our Pocatello Branch is located at:
333 W. Alameda Rd.
Pocatello, ID 83201
(208) 233-0725
From Idaho Falls/Blackfoot or McCammon in the south, take Interstate 15 to exit 71 for I-15/Pocatello Creek Road. Merge onto Pocatello Creek Road heading west into the center of town, then continue straight as Pocatello Creek Road becomes Alameda Road. Cross the Yellowstone Avenue intersection with the Fred Meyer on the left, and turn left just past Wilson Avenue into our Pocatello Branch parking lot on the left hand side.
From the west on Interstate 86, take exit 58 for US-30 toward West Pocatello. Drive for 3 miles, and then make a sharp left onto Hawthorne Road, followed by the very first right onto Alameda Road. Follow Alameda Road for 1 more mile into town, and arrive at Westmark Pocatello on the right side.
Branch and drive-through hours
Drive-through services
Monday to Thursday: 9:00am to 5:30pm
Friday: 9:00am to 6:00pm
Saturday: 9:00am to 1:00pm
Branch hours
Monday to Thursday: 9:30am to 5:00pm
Friday: 9:30am to 6:00pm
Saturday: 9:00am to 1:00pm
Come in today for all of your financial service needs. (208) 233-0725