Credit Cards
Now, more rewarding than ever.
Whether you're looking for a card offering cash rewards or a card with a lower interest rate, we have what you're looking for. See our Credit Card Comparison Chart to see which card fits you.
Apply now RATES Card GuardReport Lost/Stolen Card Cash rewards login Mobile Wallet Card Creator
NOTICE OF CHANGE – ATM WITHDRAWALS WITH YOUR CREDIT CARD
In compliance with VISA and MasterCard restrictions our credit card processing will no longer support combination account credit cards or duo cards, which feature credit card and debit card features. In the past, we were able to process cash advances from your credit card or from your savings account as an alternative, from an ATM using a single credit card. We, unfortunately, will no longer be able to provide this service, as support through the card processors has been discontinued.
You may still use your credit card for any cash advance available under your limit and you may still use your debit card to access cash from either your checking or savings account. Thank you for your understanding and support of Westmark Credit Union.
Credit Card Comparison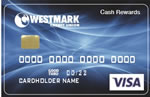 VISA Cash Rewards
Features
1% cash back on all eligible purchases.
Redeem your rewards at anytime throughout the year.
25 day grace period on all purchases.
*No cash advance fees.
We are currently offering 2% Cash Rewards when you spend at least $1000 on eligible purchases within the first 90 days.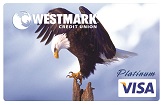 VISA Platinum
Features
Low rate.
Low minimum payment.
25-day grace period on purchases.
*No cash advance fees.
Contact your nearest branch for VISA Platinum Balance Transfer information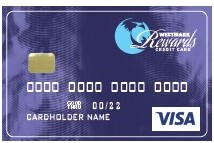 Rewards Credit Card
Features
Must have Rewards Checking to obtain this card.
1 Point Per $1 spent
Redeem your rewards at anytime throughout the year.
25 day grace period
*No cash advance fees
All loans are on approved credit basis. Credit Card rates are variable rates.
*Cash Advance Fees may apply to promotional rates. VISA Cash Rewards Card carries a higher interest rate on Cash Advances.
---
Lost or Stolen Credit Cards
What should you do if you have a lost or stolen credit or debit card?
If your Westmark credit or debit card is lost or stolen, call us immediately to report the loss at:
24/7 Debit and Credit Card Assistance
Call (208) 523-1071 or 1-800-574-5626 (Toll Free)